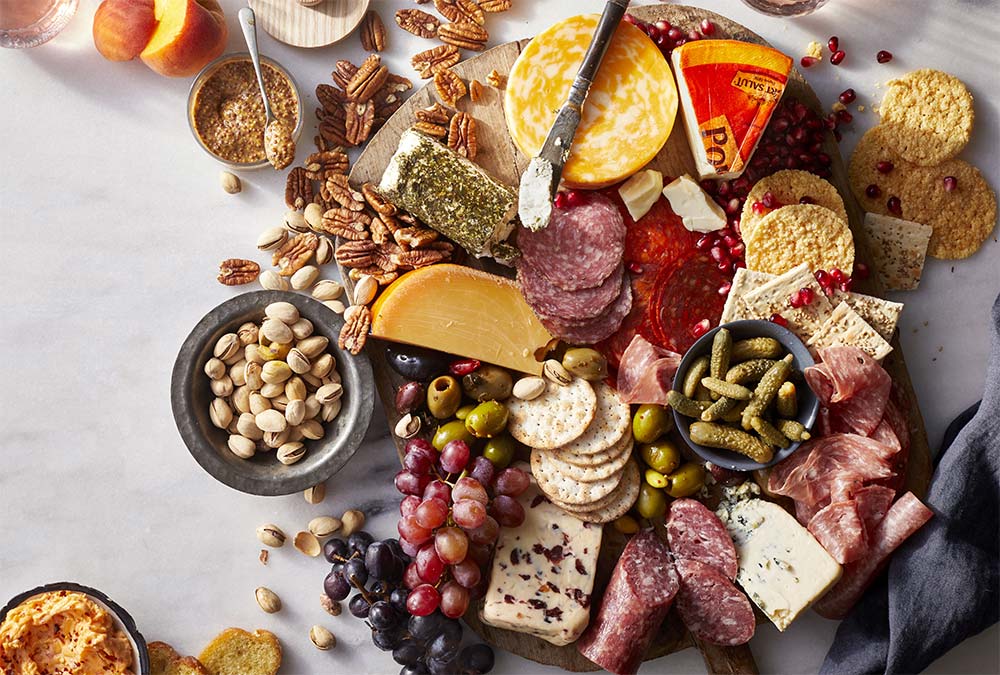 Putting together a successful charcuterie and cheese platter takes minimal effort with splendid results. The key is not stressing about exactly what you choose to showcase. No matter what I've ever served in a selection, I've never heard a complaint.
serving per person: 3 slices of meat and 2 ounces of cheese
For the charcuterie, I like to offer at least three different meats. My favorites are shaved country ham, peppery salami, and prosciutto. I also like pastrami and a really good pepperoni. Set out the charcuterie about 25 minutes in advance so it can warm slightly before serving. Set out a separate fork for each meat.
For the cheese, try offering a soft, a firm, a mild blue, and your favorite pimiento cheese. Each cheese will require its own knife. There's only one hard and fast rule: no cheese cubes under any circumstances. For the best temperature and softness, set out the cheeses on the counter about 45 minutes early to soften.
For accompaniments, try whole-grain mustard, pepper jelly, sorghum, toasted pecans, halved figs, and some bread and butter pickles. Crackers and bread are always welcome on my platters, but I prefer ones that aren't strongly flavored so the meat and cheese can really shine.
There's no need to buy a fancy wooden serving board for charcuterie and cheese at home. Any large platter, cutting board, or stone slab (as long as it's food-safe) will work wonderfully.
It would be impossible to name all the talented artisans making Southern charcuterie and cheeses. Here are just a few to get you started. Make sure to research what's closest to your area. The closer to home, the better.
Cheese
Blackberryfarmshop.com
Brazos Valley Cheese, Waco, Texas
CalyRoad Creamery, Sandy Springs, Georgia
Dayspring Dairy, Gallant, Alabama
Fromagerie Belle Chevre, Elkmont, Alabama
Sweet Grass Dairy, Thomasville, Georgia
Charcuterie
Blackberryfarmshop.com
Ted's Butcherblock, Charleston, South Carolina
Heywood's Provision Company, Marietta, GA
Pendulum Fine Meats, Norfolk, Virginia
Pine Street Market, Avondale Estates, Georgia
Edwardsvaham.com (400-day aged Surryano)
The Spotted Trotter Charcuterie, Atlanta, GA