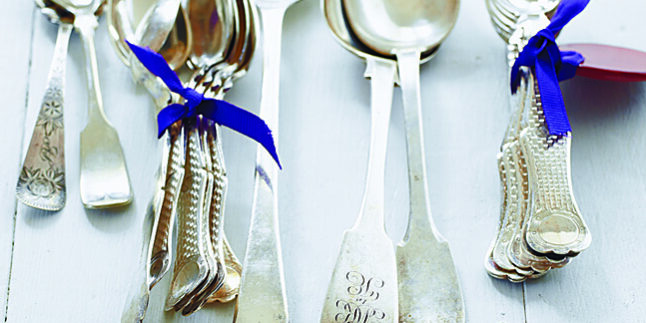 You probably own silver that you tucked away in a felt-lined box when you married and put it away to stay safe. Take that silver out of hiding! Pull out your sterling or silver plate and actually enjoy all the wonderful pieces that rarely see the light of day. Silver stays in better shape with less tarnish the more often it is used. So celebrate Christmas with a really good fork in your hand!
Before the holidays get in full swing, set aside just a little time to make sure all the pieces of silver are in their shiniest condition. I like to do this near a sink. It's best if you can also be close to a kitchen hood for ventilation or simply open a window as the smell is pretty unpleasant.
Place the silver flatware in a disposable aluminum roasting pan set on a kitchen towel on a heat-proof surface. Don't worry, you can pile them all in the pan together.
Pour 1 1/2 cups of baking soda on top of the silver. It will be mounded on top of the silver and you'll think you are using too much.
Very carefully pour boiling water over flatware. A massive eruption of bubbles will work away the really deep tarnish. Let sit for about 5 minutes or a few minutes more, if needed.
Remove the pieces from the hot water with tongs and rinse with cool water and dry.
Polish the silver with a cream silver polish. I have used Wright's Silver Cream for years. Rinse the flatware well and dry with a soft towel to prevent water spots.
To keep your silver in top condition throughout Christmas, hand wash only (do not put in the dishwasher) and dry after each use. Remember, if you never use the silver, you won't enjoy it. Merry Christmas!